Top-Notch Service
With an industry leading 80%+ first-time-fix rate, Magnum tries to exceed your expectations by getting the repair done right and the repair done fast. Customers who purchase toner cartridges from Magnum receive a reduced labor fee on all printer, copier, fax or scanner repairs.
Our technicians have hundreds of certifications from manufacturers such as HP, Sharp, Lexmark, Xerox, Canon, etc.
Fast & Thorough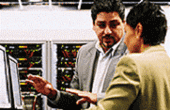 Customers can choose between a per-incident labor fee or an annual contract. Currently, the average time to arrive on-site for a repair is within 24 hours.
Our certified technicians have an average of 6 years experience repairing thousands of printers. You are guaranteed the most advanced and thorough services possible.
Device Repair
Magnum will service the following devices from any manufacturer:
Copiers
Scanners
Large Format Printers (Plotters)
MFP (Multi-Function Printers)
Laser Printers
Fax Machines
Inkjet printers and Dot Matrix printers will need to be brought to our Seattle facilities for depot repair. On-site service is not offered for these types of printers.
Extensive Inventory
Magnum technicians carry a wide assortment of parts to every service call to increase the likelihood that the repair can be done on the spot. Due to the volume of repair parts purchased on a monthly basis, Magnum has been able to negotiate terrific delivery terms for parts. Over 90% of parts needed for customer repairs will be delivered by 10am the next day at no extra charge.